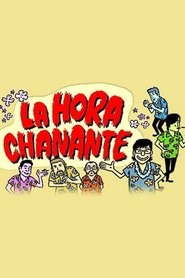 La Hora Chanante
La Hora Chanante is a Spanish comedy television show aired through the cable/satellite local version of the Paramount Comedy channel. Each episode is a half hour long and consists of a series of unrelated sketches and a story featuring some celebrity which helps keep continuity throughout the program. Episodes used to be released on a monthly basis until 2006, when the show was discontinued. However, reruns are aired frequently through Paramount Comedy as well as Localia, and in December 2007, Paramount Comedy Spain and Universal Pictures launched a pack of two DVDs with the best moments of "La Hora Chanante" and some extras, an unreleased, deleted scenes, stickers and a comic drawn by Joaquín Reyes.
It was created and directed by comedian from Albacete Joaquín Reyes, who also played the celebrities portrayed in each episode, thus serving as a show host. Many of the show's cutscenes were drawn by Lalo Kubala and Carlos Areces, both known for their work in the Spanish satire magazine El Jueves.
The staff responsible for La Hora Chanante started in September 2007 a new show with a similar format in the public channel La 2, called Muchachada Nui.
TV Status: Ended
Duration: 30 min
Release: 2002