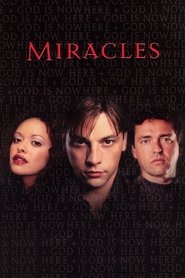 Miracles
Miracles is an American drama television program starring Skeet Ulrich and Angus Macfadyen. Created by Richard Hatem and Michael Petroni, the series has sometimes been dubbed a "spiritual version of The X-Files" by its creators. Following the pilot, David Greenwalt, co-creator of Angel served as the show's executive producer and head writer for the remaining twelve episodes.
Miracles follows Paul Callan, an investigator of modern miracles for the Catholic Church who questions his faith after repeatedly finding mundane explanations for various supposed phenomena. After he witnesses a true, supernatural miracle that saves his life, only for his findings to be dismissed on a lack of evidence, Paul leaves behind the Church and is approached by Alva Keel to join his organization Sodalitas Quaerito, investigating and cataloguing "unexplainable" phenomena. Along with former police officer Evelyn Santos, Paul and Alva attempt to battle the impending "darkness" before it's too late.
The series premiered as part of ABC's new "Super Monday" line-up on January 27, 2003. Six episodes were broadcast on ABC before the series was canceled because of low ratings, with its final broadcast episode drawing just 5.7 million viewers on March 31, 2003. The series was preempted a number of times during its run, once for a rebroadcast of the documentary special Living with Michael Jackson and various other times to air newsmagazine specials about the then-developing Iraq War. Miracles fans, angered by the cancellation and what they saw as ABC's mismanagement of the show's Monday 10:00pm timeslot, began a fan campaign to revive the show. Fans wrote messages on napkins and mailed them to various networks hoping the show would be revived by another network, however efforts were unsuccessful and the show did not continue past its initial order of thirteen episodes.